A PLACE TO REMEMBER !MARINOS ROOMS
WELCOME MESSAGE

Marinos Rooms is located at Ancient Corinth, a few steps from the famous archaeological museum and our beautiful city's square. Our building combines tradition, comfort & luxury. Enjoy your stay inside our deluxe rooms, relax at your private balcony or at our green garden, everything under the shadow of the stunning Acrocorinth. Surround yourself with our flowers & trees senses, from which we use their fresh products for our delicious Greek traditional breakfast. A breakfast experience, made with top-self local products, that really stays remembered!
Our location has been strategically chosen, to combine quiet & relaxation, at a short distance from all places of interest. Only 1:30-hour drive from Athens International Airport. Have a walk through our famous museum, see the temple of Apollo and the podium where st. Paul had his speeches. Visit the Acrocorinth, only 1.5km away and enjoy the beautiful sunset view, over the Corinthian Gulf. Visit the beautiful seaside places and beaches, such as Lechaion, Corinth, Loutraki or Beautiful Helen's bath. Have a short excursion to Iraion of Perachora, Nauplion, Nemea, Epidavrus, Argos, Patras, Kalamata, Gytheion and many many more!
Marinos family, serves the tourism industry for about 40 years. Our newest building can accommodate everyone from large groups & families, to single individuals, since it has a wide range of room types. Vasilis & Chrysa, the owners, will always welcome you with their biggest smile, like you are family. Their kids, Spyros & Elisabeth, are also in charge of the accommodation. In Marinos Rooms, you will always feel like home!
We have proudly served thousands of happy customers, for over two decades of our operation. We offer a clean and friendly environment for all our visitors, coming from around the world.
Our greatest joy is to see you coming again and again, choosing us for your vacation. We would be very happy to see you and treat you our best!
TASTE OUR UNIQUE BREAKFAST
DELUXE ROOMS WITH A BEAUTIFUL VIEW
We are offering a huge variety of room types to fulfill all requirements.
Every room offers a clean, relaxing & luxurious place to enjoy your staying as much as possible.
From a family stay to a group accommodation, our hotel can cover all of your needs.Our one-of-a-kind traditional breakfast is really something you should not miss.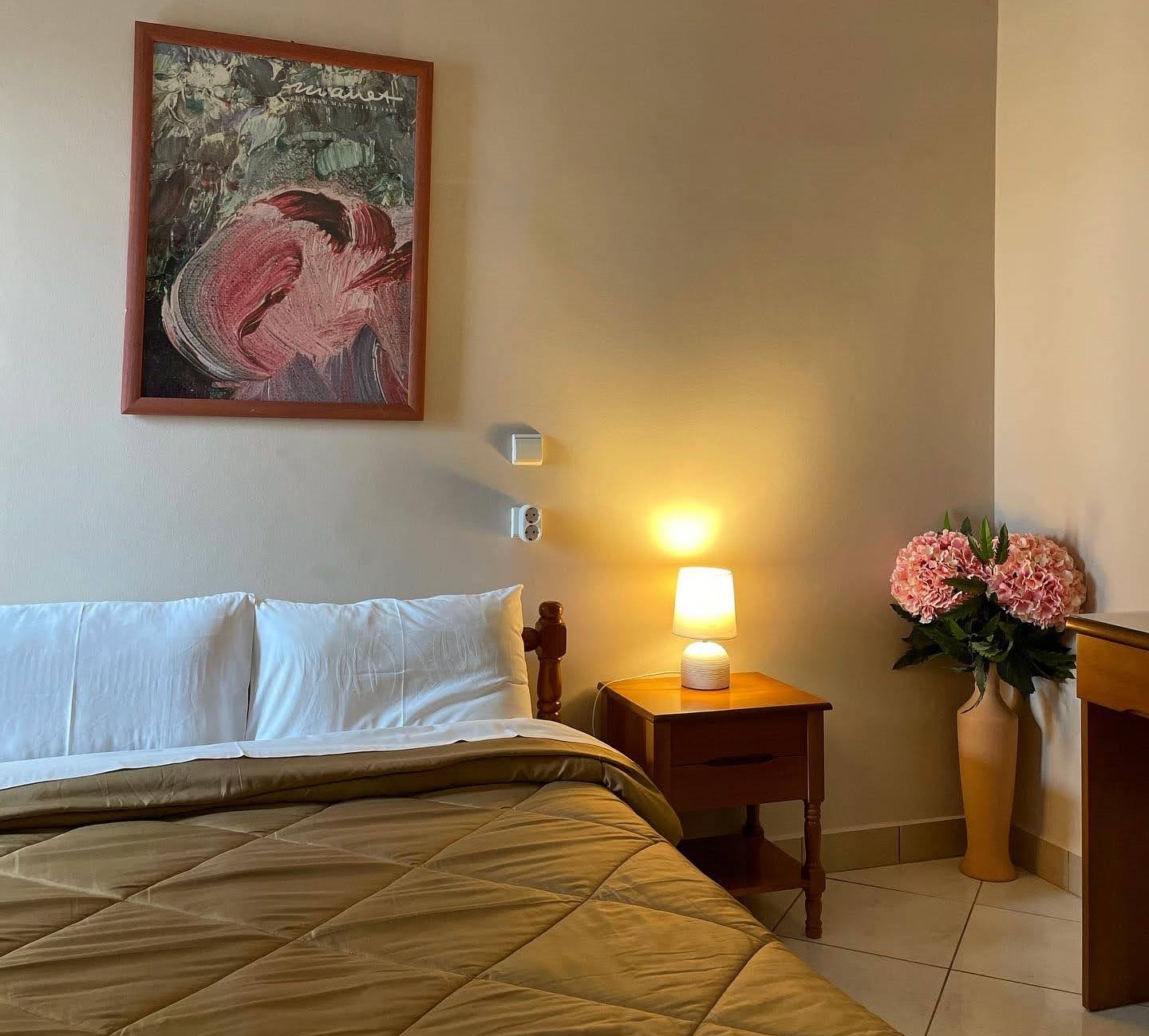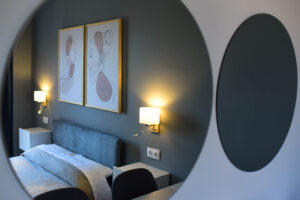 Deluxe Double Room
1-2 persons,
Every room offers clean and relaxing place to enjoy your staying as much as possible.
Deluxe Double Room with Mountain View
2 persons.
Every room offers clean and relaxing place to enjoy your staying as much as possible.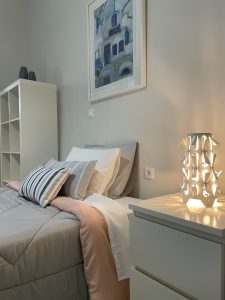 Deluxe Triple Room
1-3 persons
The final price is adjusted depending on the number of people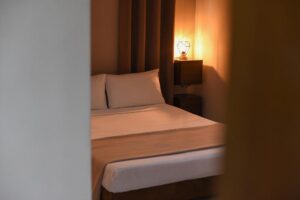 Triple Room with Mountain View
1-3 persons.
Every room offers clean and relaxing place to enjoy your staying as much as possible.
MARINOS ROOMS
CLOSE TO EVERYWHERE
Acient Corinth is close to everywhere you want to go. Close to our major international airport, also close to Athens and Parthenon. Take a short day-trip to Ancient Olympia to feel the spirit of the Olympic games and to Mycanae to come close to a huge historical place.
We want to make your staying unforgetable.
MARINOS ROOMS
TASTE THE DIFFERENCE
One thing that you will not forget, is our kitchen. We serve the best traditional Greek recipies and Mediteranean food prepared with a lot of care and enjoyment. People have a lot to say about our kitchen.

We would add one more reason to make you happy for staying with us. 
MARINOS ROOMSENJOY AND RELAX

Under the shade of the Ancient Castle of Corinth, in the middle of our colorful garden, you can relax, talk, read your books and get in touch with your beloved ones, back home, from your laptop or tablet. This is what vacation is all about.
We want to make your staying unforgetable.

Good
Really Nice ☺ Great and various breakfast and friendly service. ☹ LP

Very Good

Heerlijk klein hotel ☺Schoon hotel ☹Niets
Impeccably clean and comfortable. Amazing breakfast. Wifi not fast enough (upload). ☺ Impeccably clean and well-equipped rooms. Amazing breakfast featuring a lot of home made food and love. Beds and pillows very comfortable. A short walk of 5 minutes to the ruins. Lovely hosts. ☹ Wifi not so great - 20 Mbps down, 4 Mbps up (this needs to be improved). The property bills itself as having a restaurant, but it's unclear that it actually operates (partly because it's a way off the hub of restaurants - I'd love to eat here if I knew they were serving food)
Very Good

☺Fijn en rustig hotel met mooi uitzicht op de Acrokorinthos en op loopafstand van de opgravingen, het museum en gezellig plein met restaurantjes. Heel aardig personeel en heerlijk ontbijt! ☹Niets, ik kan het hotel iedereen aanraden.

Opción inmejorable en Corinto ☺Muy amables y atentos!El desayuno espectacular!

Exceptional ☺ Very helpful and friendly stuff!

An amazing breakfast and perfect base to visit Ancient Corinth ☺ first of all, the staff were so welcoming. Secondly the hotel is perfectly placed for visit to Ancient Corinth. A short walk and you get an amazing overall vista of the ancient city. Thirdly, I cannot recall ever eating such a wonderful breakfast in a hotel. Do not turn down yoghurt with the hotels homemade cherry mixture. ☹ Nothing